We are going strong in Black Rock, Bridgeport.... NEW SHOP, same FULL service capabilities.

With our mobile work shop van, we can service a huge area, we regularly complete jobs in Westchester county as well as go as far as the Connecticut river or further.


OCEAN RIGGING HAS MOVED!

We are now located in Captain's Cove Seaport, Black Rock Harbor

Ocean Rigging LLC.
1 Bostwick Ave.
Bridgeport, CT 06605

We continue to offer premium rigging services to all our customers.



Snow, Snow, Snow. It seems we are firmly in the grip of the the white stuff, but the days are getting longer, and temperatures are (sometimes) getting warmer. Spring is not that far away.

Now is the time to get those winter projects completed before the rush of the Spring engulfs us. FULL WINCH SERVICE IS CRITICAL!




The days are getting shorter, summer is still with us, but fall and winter are approaching ever nearer, now is the time to think about Decommissioning, Masts should be unstepped every year for optimum life of rigging, Yearly Surveying is critical, servicing of winches and gear, ensures smooth sailing next year.


Greetings! Happy New Year! What a difference a year makes! It has been unseasonably mild...perfect for getting winter work done and we still have quite a bit to get done. Spring is closing in fast and its going to get super busy, now is the time to beat the rush and get everything done before the season starts.

Call us for any project large or small, Need a new Halyard? New Spar? Leisurefurl Boom? Electric Winch? we can help, we have more in house capability than ever before, there is nothing we can't get done! FULL WINCH SERVICE IS CRITICAL



Summer is still with us, the season has still got a lot to give, the best sailing weather is yet to come. Nobody wants to think about the winter, this year however, with the closing of Brewer Yacht Haven in Stamford, there is a new urgency to find available space for the off season. Norwalk Cove Marina and Ocean Rigging are sending winter contracts, earlier than normal to make sure every one can get situated.

It is imperative to return contracts very early this year to guarantee a spot, Ocean Rigging is here as always to offer our first class Unstepping and storage service, as well as attend to any service requirement or upgrade.


WOW! What a Winter, it has never stopped, record snowfall and enough bad weather to make any sun lovers wish they were south. But Spring is almost upon us, and its going to very busy, now is the last chance to get ahead of the rush and get those preseason projects done.

Call us for any project large or small, Need a new Halyard? New Spar? Electric Winch? we can help, we have more in house capability than ever before, there is nothing we can't get done! FULL WINCH SERVICE IS CRITICAL


Sept 14th 2010

Fall is coming, the days are getting shorter, time to think about the off-season.

Feb 11th, 2010

Snow, Snow, Snow! It is still winter, no doubt about it. But spring is just around the corner, this is a great time to start those preseason projects, and winter service work, WINCH SERVICE IS CRITICAL!

Nov 17th, 2009

Winter is coming, protecting boats form the freezing weather in very important. Ocean Rigging now offers a Premium Shrink Wrapping service, using superior framing and supports, specifically for mast out sail boats but also for any boat of any size and description.

Sept 9th, 2009

The summer is winding down, fall is around the corner, the Boat Show is nearly here. Our fall contracts are now available.

Ocean Rigging offers multiple Winter service options, and Upgrades, some of the more important areas to attend to are Winch Service, Sail Cleaning, Mast Survey.

Feb 5th, 2009

Winter is upon us, and it's COLD!! but spring is getting closer, now is the time to get all those winter projects and servicing done, before the spring rush, Spring contracts are now available.

We are now Forespar LeisureFurl Dealers!

Sept 24th, 2008

The Norwalk International Boat Show is over, we are gearing up for a busy Fall Unstepping season, make sure your contracts are in early.

Material and Labor Costs are increasing soon. Lock in work at the 2008 Price!

Aug 28th, 2008
Welcome to Ocean Rigging! We hope you are all enjoying the summer, Fall is just around the corner, time to think about Fall/Winter work, Ocean Rigging Fall contracts are available for Download now, Please fill them out and return them to us.

We would like to remind you that masts should be unstepped at least once every 3 years for cruising boats, more frequently for boats that are raced or taken offshore - Every year.

WINCH SERVICE IS CRITICAL! We remove winches to our parts washer and give them a FULL BREAKDOWN service.

Feb 15th, 2008
Ships ahoy, ye sea-farin maties! I have a precious piece of stash in me booty for all you early swashbucklers out there... The 2008 Spring Commisioning form. Dont wait for the commisioning list to arrive by mail, download it today and save time.

Jan 29, 2008
Happy New Year! 2007 was a banner year hear at Norwalk Cove Marina and we would like to extend our thanks to all our Customers.... Thank You!!!

NEWS::
We have just about finished our new Shop and we have purchased a lot of new equipment and supplies to help serve you quickly and more efficiently this coming spring. We still have a few surprises up our sleeves before summer gets here so swing by soon to check us out.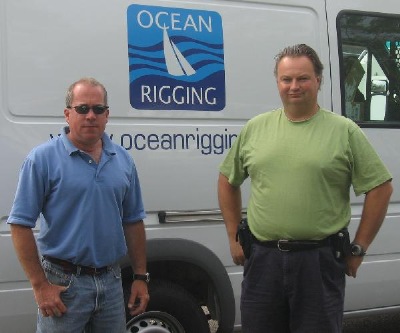 Thank you for visiting our new Internet site. As an up-to-date business, we want to give you the opportunity to stay in touch with our company and our offers. A new content management system will enable us to always keep you up to date.

At present, our web site is still under construction. We are making an effort to present you with our entire spectrum of offers as soon as possible. At this point we can provide you with information regarding our services and our service area. The emphasis of our site is on keeping you up to date with new and interesting information in the field of Yacht Rigging and Management. This topic is certainly of interest to you. Check this site later, please.

In the meantime you can reach us at (800) 624 2101 and by voice mail/fax at (203)548-9168. We are looking forward to hearing from you. You can also contact us at our e-mail address: info@oceanrigging.net .

If you are not familiar with our company and your first contact with us is online: We would be pleased to hear from you! Please let us know what your needs and questions are, we will be more than happy to help.

In brief, you should know the following about us: our company was established in 2006 and had been responsible for providing outstanding Yacht Rigging ever since. Our business, while located primarily in Fairfield County, CT serves a much larger area extending from NJ to ME.